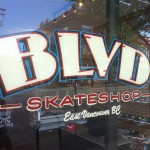 Blvd Skateshop opened its doors in December of 2008. Our motivation was [and still is] to keep the tradition of the local independent – skater owned shop alive.
From street to bowls to parks to pools to just plain cruising; we've got you covered with the best brands in skateboarding and expert service. We'll identify what's right for you based on your needs and we will do our best to give you a great deal.
We feature a solid selection of boards, apparel, denim, safety gear, accessories and footwear for young and old and stand behind our products and service.
We feel strongly in our convictions that if you sell skateboards; you should also do your part to support the culture. We achieve this through our shop team, contests, events, lessons and various other skate related initiatives.
Thanks for your interest, we look forward to seeing you soon!
Kevin Kelly – Owner/Skateboarder 27 yrs