The Kensington Contest is back again for 2012!  We moved things up a little earlier this year as you may have noticed. We've got a really good reason though…..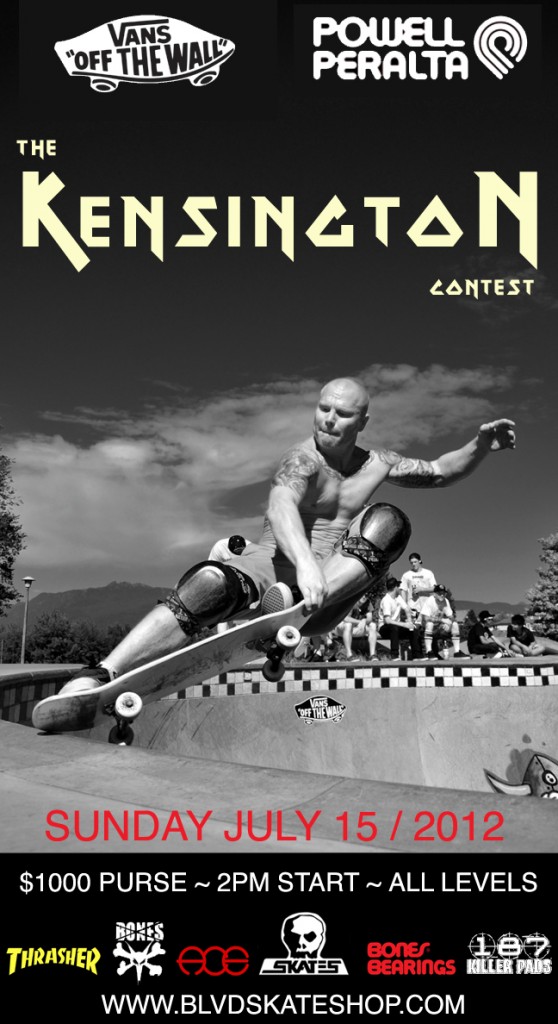 This year's event is brought to you once again by some of the oldest and best names in skateboarding with Vans and Powell Peralta leading the way. Followed by Thrasher, Bones Wheels, Ace Trucks, Skull Skates, Bones Bearings, 187 Killer Pads and us Blvd Skateshop.
We've got $1000 cash to give away and a ton of sick prizes. As always this event is open to all levels. There's 3 categories to choose from: BAD/GOOD/MASTERS (40+) Entry Fee will be $10. All participants must sign a waiver or have a parent/guardian sign for them. Helmets are mandatory to all those under 16 and strongly recommended for everyone else.
**Special Guest Appearance by legendary Bones Brigade member Mike McGill**
We've got a late start (2pm) to allow for those who want to check out the Bowl Series event at Griffen Bowl the same day. Wee has offered to run the bbq again as well!
After an amazing day of shredding at one of Vancouver gnarliest parks we're all going to head down to The Rio Theatre for a special showing of the much hyped Bones Brigade Documentary !!! This evening of awesome is brought to you by the fine folks over at Ultimate Skateboard Distribution.
That's right, a full day of skateboard madness a little over a week away!