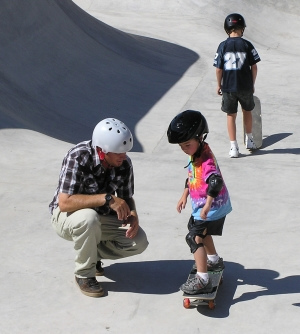 Summer 2013 is nearly upon us and that means its time for Blvd Skateshop's very own SKAMP! – Beginner Skateboard Lessons to get rolling.
Our lessons (formerly known as Skate It Up) have been the standard in Vancouver's Lower mainland since 2000 and have successfully helped over 3500 youth get their start with skateboarding .
SKAMP! Beginner Skateboard lessons are open to boys and girls ages 6 and up and will once again be offered at skateparks all around Vancouver.
Our lesson programs are taught by talented local amateurs and emphasize safety, confidence and fun.  Everybody learns differently and that is something that is especially true in skateboarding.  Our instructors are keenly aware of this and approach each lesson differently based on the participants involved.  So while each child may come away with a different skill-set. What they all come away with is the knowledge of how to safely use a skatepark, the mechanics of a board, accident avoidance and most importantly a big dose of confidence!
This summer we will be offering both group lessons and private one on one lessons.
The group lesson schedule and locations will be available and posted by June 01 2013.
Private lessons will begin May 15 2013 and can be arranged anytime at virtually any location.  Our private lessons match you up with talented young skaters that are great with kids.  These are available at $40 per hour. Simply send us an email to info@blvdskateshop.com with 'lessons' in the subject line and give us:
your name and contact info
child's name and age
child's skill level (beginner,experienced..etc)
what type of skateboarding (bowl,street,combo)
what area of town best suits you
Thanks for your interest. We look forward to seeing your kid's at the skatepark!
BLVD