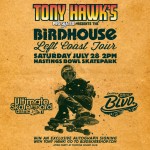 Tomorrow is the big day. The guys came in late last night. Sadly two of the Birdhouse guys were denied at the border (Jaws and Clint Walker). What happened to Free Trade??
Big thanks to everyone that entered the "MEET TONY HAWK" contest!  The winners have all been contacted and the contest is now closed.  Should be fun!
As far as the demo goes, everything gets started at 2pm at the Hastings Bowl.  Capacity is limited, so get there early if you want a good view.  We recommend you take transit. If you drive, there is public parking available at the PNE at Gate 6. (beside coliseum)
We ask that everybody please respect that this is a closed DEMO for Tony and the Birdhouse team.  Please dont bring your board, scooter, bike or pogo stick thinking that you are going to jump in the bowl and skate with Tony…….not happening.
Weather wise we're expecting sunshine, so lets all have a fun day and show these guys why Vancouver is such a great city!!